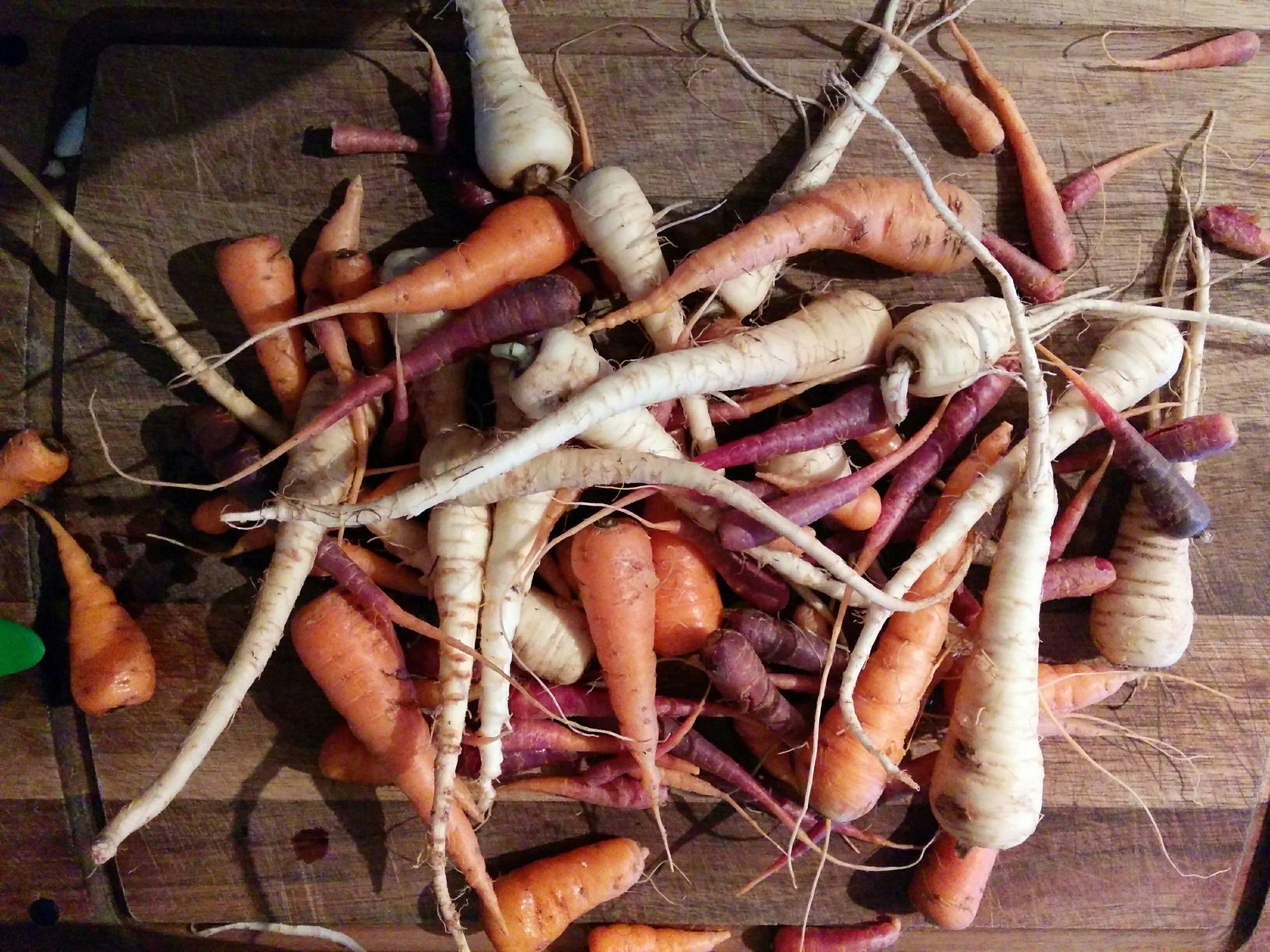 I hope everyone had a wonderful (Canadian) Thanksgiving. Besides enjoying turkey, pumpkin pie and the vegetables my wife grew (seen above), my family and I enjoyed watching my Toronto Blue Jays trounce the Texas Rangers in the ALDS series!
The more perceptive of you might notice a small change on the website. It's less a change and more of a temporary omission, as I've removed the links to promised article categories. This isn't because I'm no longer writing them, it's because I'm not sure when I can write them as I'm knee deep in getting some short stories written for various things, editing the second draft of my novel and, of course, post-season baseball. Knowing that those categories were standing empty and that I was only creeping along getting content written on them was weighing heavily on my shoulders, gnawing at my brain with every spare moment I had. Removing them from the website removed that weight.
I guess this relates to something I am very adamant about in my own workflow, which is eliminating the distractions, the chaff, the things that are making it difficult to get tasks done. My desk is very minimal, the lighting very focused, and I only write when the house is empty and the internet off. The knowledge that these articles were not getting written was eating into my focus of getting those short stories done, and so, by temporarily eliminating their promise from the website, it removes them from my mind and is helping me to focus. I hope you can forgive me if you were anticipating them, and roll your eyes and laugh with me if you don't care.
Those short stories are getting finished though, as I race to various deadlines. One just received the final edit for one of Canada's largest and most competitive contests, and the second story has moved to it's second draft  (though really the first draft of a completely different take). I have finished the research for the third short story, which isn't due until the new year, I've moved onto a rough outline for the story and main character. I've learned a lot of interesting things about Edmonton doing this research. It feeds into my belief that unlike our neighbours to the south, Canadians don't talk enough about their history.
With regards to the book: good lord, there are so many things I want to discuss about my work, about the process, but I feel that they need to be released with my other journals because things will change, scenes will come and go and any journals I might write would be better with context at a later date. Also I think having distance from those things, to provide perspective will allow me to discuss them with greater impact. I will be able to tell you the result of these changes, or why I didn't or did go through with decisions. Focused work on the book will start soon.
While I feverishly work on edits and stories and try to fit in time to on articles for the website,  I'm enjoying The Antagonist by Lynn Coady 
and continuing with Midnight in the Garden of Good and Evil, which I am now treating more as a series of short stories than a book in itself, reading a chapter in between my main book like I would any collection of short stories.
Be well,